There are days that I don't feel like I'm enough. For my family, for my blog, for me.
I have mental illness. I have migraines. I have limited energy. I have a pre-schooler and toddler who take it out of me. I have a house that often gets neglected. Laundry that piles up. Dishes undone.
But in my heart I know I am enough. My family loves me. I see it in their eyes when they look at me. Smile at me. I know they love me for me. I know I am enough.
I feel it in my heart when they hug me unprompted and say "love you." (Yes, my 18-month-old is quite verbal.)
I felt like enough just last night when I hugged my dear husband John on the couch and he and the kids played a game of "My Mommy"! Laughing over who I belonged to. Staking their claim on me. Their favorite mommy and wife. I am enough for them. More than enough.
I am enough for my blog because I write passionately, often with fear and anxiety in sharing. Scared to put myself out there. But I do it. I want to do it because I want to make an impact, even if in just one person's life.
I am enough for me. I swear I am, even when I don't feel it. Its OK not to feel it every day, every minute. But its good to remind myself, that the me I am today is enough.
Are you enough? I think you are. You are beautiful. You are YOU. Please don't ever let anyone make you feel like you are not enough.
Today I am linking up with http://www.justbeenough.com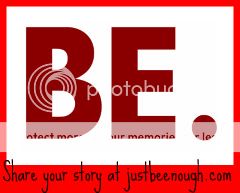 Every MONDAY (ok this was supposed to be Monday, I'm late but I am enough) join us…
Write, Post, Link-Up, share your story and your voice.
Be part of carrying the weight of confidence, empowerment and share our mission to empower, inspire,and remind women, parents and children that the time has come to celebrate ourselves!
How you have lived the Be Enough Me feeling this week?