Last week was very nerve-wracking for me. I have diagnosed anxiety. I have been known to have panic attacks. I also had so much I wanted to do. So much I wanted to be able to accomplish to advocate for mental health and suicide prevention.
Last week was also Ronin's first week back at gymnastics since summer break, and his anxiety (and perhaps mine) got the better of him. He freaked out, didn't want to go, wanted me and Ellie to sit with him at "the watching wall" while his class went on before us.
He did not want to participate. He screamed. He cried. Mind you this is the same Little Gym he attended all last year. The same teacher. His buddy also in class. But none of that mattered. It was too much for him. And it was too much for me to see, especially in this stressful week.
I also just hate it when my boy panics. I've been there–a lot–and I desperately want to protect him.
I was so stressed with my own "stuff" that I almost quit … let HIM quit and take him home just like he was begging. I almost got my money back and just stopped trying.
I often go between encouraging him to come out of his shell and try new experiences, while struggling with seeing my child anxious and scared and knowing from experience what that feels like. Where is the balance for an anxious child? Where is my own balance as an anxious adult.
That same day, last Tuesday, I moderated the mental health & social media tweet chat. I had asked to do it. Had suggested the topic and questions. But I was so scared, much like my son had been earlier that day. Of course I went for it. I had to. And it turned out to be a great experience.
Also last week, I was anxious not knowing if I'd reach my fundraising goal for suicide prevention. And as the week progressed I became VERY nervous that I actually would. Blue hair is not something I do every day or have ever done, in fact. But once again it was an experience I had asked for. One that I just closed my eyes and went for no matter how strong the anxiety I felt. And it was amazing. You all rallied, the money was raised, and I got bright blue hair. ————–>
I want Ronin to have great experiences too, even when he's afraid to try. Because sometimes if we just take a step forward … then step again … even if we fall, the beauty is in the journey.
Getting my hair dyed blue was more than just an end result. It wasn't just a gimmick to raise money. (Although it really did work. Thank you.) Its also been about the journey.
We've raised awareness. Gotten people talking about a very serious, and seriously sad topic–with a bit of a smile. It's built a community #bluebloggers that just keeps growing. It's even gotten others to open up about their own brushes with suicide, their loved ones lost, their own suicidal thoughts. Their need–our need–for support and healing.
And none of it would have happened without trying, anxiety and all.
THAT is the real lesson I want to teach my son.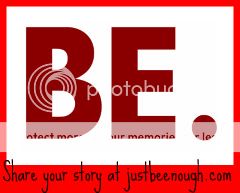 I linked this post up with Just.Be.Enough

This is our very last week to make an impact for Be Enough Me 4 Cancer. Last week we had 45 people link up an enough-themed post in our Be Enough Me for Cancer campaign and I'd love it if you'd help us boost that number again. For every 20 linked up posts, Bellflower Books will provide a memory book to a woman fighting breast cancer through Crickett's Answer for Cancer, and help bring a smile to courageous women giving it their all, every single day. The link-up remains open for three days. No blog? No worries. You can also comment on the post or on the Just.Be.Enough. Facebook page with your own story and be counted.

Like this Post? Subscribe to Email Updates