GUEST POST: Elaine N. Schoch is an avid traveler who is busy exploring the world, usually with her two kids in tow. She shares her adventures, travel advice and tips on CarpeTravel.com and @elaineschoch.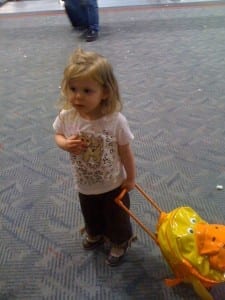 Traveling is stressful enough but adding kids to the mix completely adds another level of stress to the equation. Being an avid traveler with two little Princesses in tow, I had a few more tips I wanted to add to Cristi's recent post "Tips & Rookie Mistakes for Traveling with Kids". These are things I've learned along the way – mainly traveling solo with my kids – that not only help make traveling easier, but also help reduce stress when the world is on the verge of melt down mode.
1. Book tickets so everyone is sitting together
You would think that when you purchase your tickets and you're telling the computer or a real person on the other end of the phone that you're traveling with kids your seats would all be put together. That's not always the case. It seems to be the norm for my family to be separated even after we've manually selected our seats on the computer…and when we check-in online. I feel like I've spent more time standing in line at the gate trying to make sure I'm sitting with both my kids. It's painful, and unfortunately not always avoidable.
Sometimes seats simply aren't available together, especially if you're booking online. If this is the case, after you make the purchase, call the airline and talk to a representative and ask them to help put you together. Do not pay more money to move seats. If they can't help you, just wait. When you arrive, the airline will work to put you together before the flight. You will need to allot more time for this, so arrive a bit earlier. If they can't help you, don't be shy. Sit down in the seats and simply ask the other passenger to change seats with you. The flight attendants will help you, especially if your kids are little. Note, if you have seats in row 12 and 24, take row 24. You need to make it worth it for those you'd like to switch seats with you.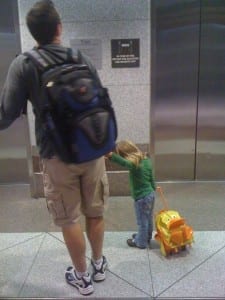 2. Time, Time and More Time
My husband is a business traveler who buzzes through the airport at the speed of light, but with kids, especially little kids, you can't really do this. It's important to make sure to give yourself enough time…for everything – packing, getting to the airport, parking, walking through the airport (and all the potty stops) and getting onto and seated on your plane. Keep in mind most airlines won't let you check kids in online so you typically have to go through the check-in line at the airport.
I've had luck calling the day before or day-of the flight to check-in online, and have reached helpful people who allowed check-in at home. I've also talked to not-so-helpful people. But it never hurts to call and ask.
3. Get Over the Germ Phobia
Kids are gross. They touch everything. Of course I think mine are the worst. They eat crackers off the bathroom floor. They touch every surface, from the floor in the parking garage to the toilet seat on the airplane – and then put their hands in their mouth. It's amazing to me they haven't contracted some rare awful disease.
I used to find myself repeatedly scolding them for touching everything. I sounded like a broken record. It wore me out and drove me crazy until I just accepted my kids are gross (and they won't contract a rare awful disease by licking tray table). Instead of being crazy germ mom, I just carry a small bottle of hand sanitizer and have them clean their hands once or twice throughout the day. I do still kinda freak out when they eat a cracker off the airport bathroom floor. YUCK!
4. Boarding the Plane is a Workout
I always find boarding the plane to be one of the more difficult tasks when I fly solo with my kids. Most people who don't travel with kids do not realize just how much of a physical workout it is to simply board the plane. From folding up the stroller, holding a baby and a nervous little one's hand AND a carry-on (or two) is a juggling act. One I've become rather skilled at, but one that still leaves me in a sweat when it's time to buckle in.
There are two options parents have. Either board early or board last. It really depends on how many carry-ons you have. If you have a few that need to go in the over head compartment, then board early. If not, then go last so your kids can run around a bit more before being confined to their seat. A lot of airlines have eliminated free early boarding for families. Frequent fliers, first class and business travelers are typically in the first groups to board. You can purchase early boarding, which seems like a waste to me but if it makes you less stressed, then go for it. Airlines do still allow early boarding for "people who need a little extra time," they just don't say "families" anymore. It's typically allowed during the first group who boards. Use it if you need it. I always do.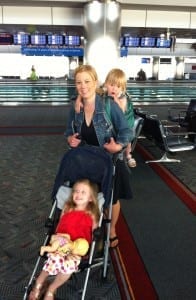 5. Containment = Safety and Sanity
The first time I traveled with my kids and no stroller I felt liberated…and terrified. I had come to rely on the stroller as a way to control my kids. Not control them in a bad way, but mange where they explored, eliminate the "I'm tired of walking" complaint, and erase the fear of losing them in a crowd. But life with a stroller does come to an end…and managing their exploration and complaints doesn't.
Like Cristi, we've invested in the Trunki, which she used on her last trip and loved. Not only is this a good tool to limit the "I'm tired of walking" complaint, but it also gives kids an activity/toy to play with as you make your way through the airport.
The Go Go Kidz TravelMate (an attachment that makes it easy to wheel your child and their car seat through busy airports) is also a good option especially if you need to have a car seat once you arrive at your destination.
My favorite though is the Kelty Junction 2.0 Child Carrier backpack. This isn't your typical backpack child carrier. It can be somewhat disguised as a backpack and then unbuckled to reveal a child carrier when your explorer gets too tired to walk, or to adventurous in their exploring. The pack also has two large pockets so it's a great carry-on for extra outfits, shoes, snacks, games, books, iPads, etc.
A friend of mine has the KangaKid pack, which is probably the most awesome carrier I've ever seen on the market. (I can't justify buying it since I have the Kelty.) This pack is smaller and totally disguised as a daypack. It can't hold as much as the Kelty but it's super cool since it's a totally hidden child carrier. Both packs fit in the overhead bin and will hold kids/content up to 40 pounds.
6. Let the Screaming Commence
I have been on planes with screaming babies and have hated every second of those flights. By the end, I'm usually even mad at that baby. But I get it. Kids cry. Mine do. The first time I flew with my oldest daughter she was two months old. I was terrified she would cry the entire three hours. To keep the hating at bay I purchased $10 worth of earplugs. Not for me, for other passengers. If she became the Tazmania Devil on the flight I planned to give them to the flight attendant to distribute to everyone. I'm proud to say five years and a few hundred thousand miles later, I still have that same quart sized bag filled with unused earplugs. But I do still carry it on flights for peace of mind if my three-year-old decides to show everyone her lung capacity and her future career as an opera singer.
7. Prepare Your Kids for Going Through Security
If your kids have a special animal, blanket or lovie, getting through security will be a lot easier if warn them that they will need to part with it for a few minutes at the airport. I learned this the hard way when my daughter was two. When it came time to have her doll go through the "tunnel" with my shoes you would have thought the world had come to an end. Luckily the people in front of me let us pass and the TSA agent helped get the doll through quickly. While I'd like to believe they were simply being really nice, I think it was really the ear piercing screams they wanted to make stop. Now, the girls make a game of going through security, telling me stories about what their dolls saw in the tunnel and where they went. It's a fun game now, but that first experience will forever be ingrained in my memory.
8. The Devil is in the Details
Skipping the minor details when you travel with kids can equate to a massive disaster. Cristi covered a lot of these in her posts about do's and don'ts when traveling with kids. A few of the essentials I think need reiterating are tons of snacks, games, coloring books, toys, gum or fruit snacks for cabin pressure issues, and of course movies and apps. I typically try to limit the amount of TV my kids watch but when we travel I toss out the rule about no more than two (three, four, five hours) of screen time. Movies and apps on my iPad have become essential necessities in keeping everyone sane on the airplane.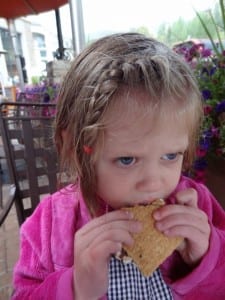 9. Green Eggs and Ham
It's hard enough to get kids to eat at home so why would it be any different when you're traveling? I've found that once we reach our destination I just let them eat what they want. That's not to say they can eat candy and cupcakes all day. But they can have butter noodles and mac and cheese for every meal if that's what they'll eat. I used to worry about not getting enough veggies and fruit, or if they're drank their milk. Now, if they eat I'm happy. I've found it's more of comfort thing for kids. They may not be able to explain it to you but eating something comfortable – aka food they know – helps ease their fears when they're away from home. If you're traveling out of the country this rule really applies since food can be so different than what they're used to at home. Stick with what they know and everyone will be happier (and healthier).
10. THE MOST IMPORTANT RULE!!!: Just do it.
Don't let traveling with your kids scare you. Don't let the fear of it make you not travel. The stress might turn you from a nice, well-groomed woman to a crazy lady with hair flying all around once in a while BUT, and it's a big BUT, it can be done. It should be done. You and your kids will both grow from the experience and often times grow closer together because of it.
Happy Travels!