For Mental Health related posts on this blog, please visit MOMS MENTAL HEALTH and get a FREE Printable PDF of Mental Health Resources (<–Download NOW!) to hang on your wall.
If you or someone you know is in immediate crisis or is struggling and needs support, please reach out:
The National Suicide Prevention Lifeline for example: 1-800-273-TALK (8255), a 24-hr/7-day hotline where anyone can call for help and speak to someone trained in suicide prevention. suicidepreventionlifeline.org PLEASE NOTE: You do not have to be suicidal to call. This number will offer you resources local to your area if you are struggling in any way. Online Chat is also now available.
If a Veteran you know shows signs of crisis, such as hopelessness, anxiety, or withdrawal, caring professionals at the Veterans Crisis Line are ready to listen. Veterans and their families can call 1-800-273-8255 and Press 1, chat online at VeteransCrisisLine.net, or text to 838255 for free, confidential support, 24 hours a day, 7 days a week, 365 days a year.
If you need a safe place to talk, The Trevor Project offers several resources. The Trevor Lifeline (866-488-7386) TrevorText is available on Fridays (4:00 p.m. – 8:00 p.m. ET / 1:00 p.m. – 5:00 p.m. PT). Text the word "Trevor" to 1-202-304-1200. TrevorChat – Available 7 days a week (3:00 p.m. – 9:00 p.m. ET / 12:00 p.m. – 6:00 p.m. PT).
Teens and young people: ReachOut.com Youth helpline Your Life Your Voice at 1-800-448-3000, run by Boys Town National Hotline (for everyone).
Befrienders.org, a worldwide directory of suicide prevention/mental health hotlines and resources.
If you're on Facebook, please utilize the Facebook chat feature of the National Suicide Prevention Lifeline. Facebook is also rolling out a new suicide prevention feature.
Information for reporting of suicidal or self harm tweets on Twitter.
Suicide: Talk to me! SAFETalk Suicide Alertness for Everyone.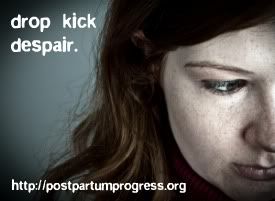 Read posts and Daily Hope emails from Postpartum Progress and other wonderful mental health focused blogs.
Participate in Tweet Chats like #PPDChat #MHSM #BraveChat #SexAbuseChat (If you know of other relevant Twitter chats please email cristicomes@gmail.com)
Taking part in Mama's Comfort Camp or MMD's Friendship Circle or PPDChat Support on Facebook (all peer support groups online.)
We can help ourselves and each other by speaking/ blogging/posting openly about our struggles. We must not be ashamed to type a Facebook status that says "I'm having a bad day."
Volunteering, raising funds or walking openly in public for a cause is a wonderful way to help you heal and bring mental illness and suicide out of the darkness.
Ask your loved ones "How are you really?" and not letting an "I'm fine" be the answer if you suspect her or she is stuggling. Ask the tough questions: "Are you thinking of suicide?" Are you thinking of killing yourself?" It is very important to be direct. Being "Suicide Aware" Always. Check out these tips for suicide alertness for everyone.
There are so many ways to reach out to others and truly make an impact, even if we don't know we are helping.
Please email me at cristicomes@gmail.com if you have any other resources you'd like to add to this list.